wendelah1
Although I liked having the spotlight on Peter, and I always enjoy a nice trip to the forest, this episode seemed like filler to me. The only important thing that happened was the scene at the end, which surely could have been worked into the two-part season finale. Additionally, the writers didn't even try to have this story make sense as a mystery/police procedural. It may be of minor interest that "Northwest Passage" was the original name for
Twin Peaks
, the influential 1991 serial drama created by David Lynch. Well, I've seen
Twin Peaks
, and this isn't even close.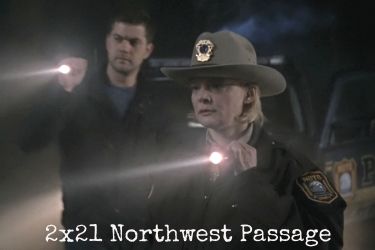 Writer: Zack Stentz, Ashley Miller, Nora Zuckerman, Lila Zuckerman
Director: Joe Chapelle
Originally aired: May 6, 2010
Synopsis:
Still angry, after checking himself out of the hospital, Peter heads to the Pacific Northwest where he becomes involved in a serial murder investigation.
Most Memorable Quote:
PETER: I don't know what to say.
ANN MATHIS: You saved Bill's life, and you tracked a killer - what else is there to say? I wish there was something I could do for you. Whatever your experiences are, whatever you can't or won't tell me about... I think you're looking for meaning in things that... have no meaning.
Links:
Transcript
The A.V. Club
Sarah Stegall
Polite Dissent
Fanfiction:
Post your recs in the comments, please. I'll edit them in. Weirdly, in everything I've read so far, the author wants to reunite Peter and Olivia before Waltenate arrives, thereby eliminating
Fringe
's best season.
I did love the little reference to Leonard Cohen's gorgeous "Anthem."
There is a crack in everything.
That's how the light gets in. That's how the light gets in.