wendelah1
This is my third complete rewatch of season three and I still believe this is where the series peaked. The dramatic tension gets ratcheted up so high in this episode that it's nearly unbearable. The romantic Peter and Olivia scene at the beginning of the episode was lovely, if short-lived.
And then the writers have to go and ruin everything in season four.
There are so many great dramatic moments, too: Walter's plea to God, AltLivia's confrontation with Walternate, AltLivia's poignant good-bye to Lincoln and Henry as she heads off to try to save our world. There was even a welcome bit of humor when Olivia wakes up in Peter's bed on Naked Tuesday. "Your father is walking around naked!" One nit-pick: I'm irritated at how the writers dumbed down our Olivia. As she headed off to Massive Dynamic, she had to have known that Peter was planning to get into the machine.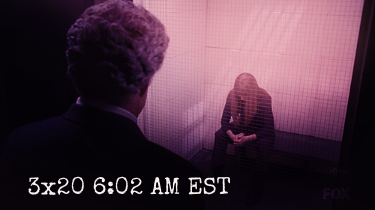 Writer: David Wilcox, Josh Singer, Graham Roland
Director: Jeannot Szwarc
Originally aired: April 22, 2011
Synopsis:
Walternate and his minions power up the Machine on their side using Peter's DNA, which they have obtained from newborn Henry. Their plan is to sacrifice our world to save theirs. AltLivia is unsuccessful in her attempt to thwart the Secretary's plan and is caught and placed in a holding cell on Liberty Island. Likewise, Peter is unsuccessful at entering the machine to try to turn it off.
Most Memorable Quote:
This was a tough one. But I finally picked Walter's scene in the chapel.
"I don't know my way around here. Other people, I suppose, find comfort being in chapels, speaking to you. I have no other place to turn. I asked you for a sign, and you sent it to me. A white tulip. And I was so grateful. Since then, in moments of deep despair, I have found solace in believing that you had forgiven me. I was willing to let him go. I was willing to let Peter die. I've changed. That should matter. God, I know my crimes are unforgivable. So punish me. Do what you want to me. But I beg you, spare our world." - Walter Bishop.
Links:
Transcript
Sarah Stegall
A.V. Club
Fanfiction:
Surprise! I have recs! All gen, however.
History Repeats Itself
by Vehemently.
Summary: What is it: I just followed that thread all the way to the end of it.
Tagline: The FBI's security protocols absolutely suck on the other side. The agent on the phone acted like she recognized me.
Skeins
also by Vehemently.
Summary: Now imagine what Ravelry is like, in that universe.
Where the rift is, the break is
by yours truly.
Summary: Set in the Red!verse, before things changed. Missing scene for "6:02 AM EST." Lincoln and Henry wait for Olivia to return.