wendelah1
To me, "There is more than one of everything," is
the
catch phrase for
Fringe
. It's also the high concept that hooked me on the series. For a certain type of viewer (and fanfic writer), a canon alternative universe is the Holy Grail of scifi television. The first season finale gives us our first tantalizing glimpse into
Fringe
's alternate universe, hints of its importance to our characters, and our first meeting with William Bell.
Truly, I love everything about this episode. I love how Olivia discovers David Robert Jones's soft spot destination by triangulating using the Fringe events (aka X-Files!) going back to the sixties. I'm gleeful as I watch Jones get sliced into two pieces as he attempts to cross over into the alternate universe. The episode is full of startling imagery and leaps of imagination: the boy on the soccer field who loses an arm, a gravestone for Peter Bishop, which means that the living, adult Peter must not be from our universe, and finally, an alternate universe so close to our own that we can catch momentary glimpses of it, a universe in which the Twin Towers are still standing.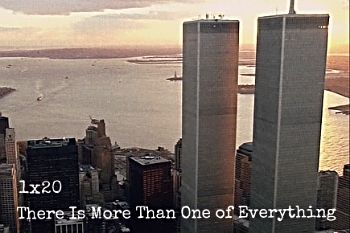 Writer: Jeff Pinkner (teleplay),J.H. Wyman (teleplay),Akiva Goldsman (story),Bryan Burk (story)
Director: Brad Anderson
Originally aired: 12 May 2009
Synopsis:
The elusive David Robert Jones is finally tracked down. He attempts to cross to an alternative universe using the technology his disciples have stolen from Walter Bishop. Fortunately, Walter is able to stop him using his universe repairing ray gun. Olivia finally gets to meet William Bell.
Most Memorable Quote:
THE OBSERVER: Do you recognize this? (hands over a vintage coin)
WALTER: How did you get that?
THE OBSERVER: This coin looks similar to the one you're thinking of. But it is from another place. There is more than one of everything.
Links:
transcript
AV Club
Alan Sepinwall's review
Fanfiction:
Post-eps for this marvelous episode should be abundant, but there are none that I could find. Let's go write some!
If you know of any, post them in the comments.
And so we come to the end of the first season of
Fringe
. Any thoughts about the season as a whole? How did it stand up compared to past viewings?
The date for the start for our season two rewatch is still being discussed among the mods. The schedule should be up in a few days.