wendelah1 posting in

fringe_rewatch
I hope you've all enjoyed your holidays and are caught up and ready for season four. One of our moderators is sitting out this round so if there is anyone in the community who would like to step up and post an episode or two (or however many you'd like to take on), please PM me. So far,

wikiaddicted
and I have January 20, 23, February 6, 13, 17, and March 10 covered but everything else is up for grabs.
January 20 – 4x1 "Neither Here Nor There"
January 23 – 4x2 "One Night in October"
January 27 – 4x3 "Alone in the World"
January 30 – 4x4 "Subject 9"
February 3 – 4x5 "Novation"
February 6 – 4x6 "And Those We've Left Behind"
February 10 – 4x7 "Wallflower"
February 13 – 4x8 "Back to Where You've Never Been"
February 17 – 4x9 "Enemy of My Enemy"
February 20 – 4x10 "Forced Perspective"
February 24 – 4x11 "Making Angels"
February 27 – 4x12 "Welcome to Westfield"
March 3 – 4x13 "A Better Human Being"
March 6 – 4x14 "The End of All Things"
March 10 – 4x15 " A Short Story About Love"
March 13 – 4x16 "Everything In Its Right Place"
March 20 – 4x18 "The Consultant"
March 24 – 4x19 "Letters of Transit"
March 27 – 4x20 "Worlds Apart"
March 31 – 4x21, 4x22 – "Brave New World" 1 and 2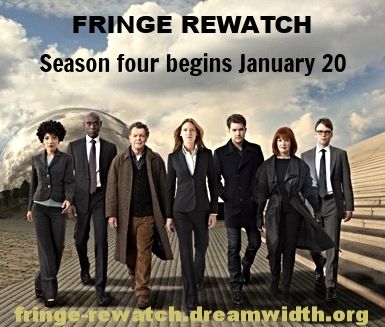 fringe_rewatch
Every Tuesday and Friday, beginning January 20

Please snag the banner if you want to help get the word out. Or make your own!
See you all next week.